You can order all of these books and many more through our publications website by clicking here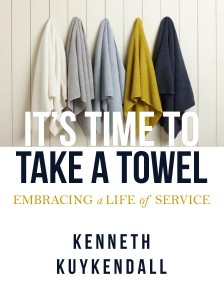 IT'S TIME TO TAKE A TOWEL
When we fail to assume the position of a servant we work from the premise that we are better than Christ.  God is calling the church to lay aside the religious cloaks of self-indulgence and take hold of the one garment that will change our churches, fix our families, and modify our ministries.  We desperately need to take the towel and wrap it around our hearts.  Newest Resource from our ministry.  Click here for more information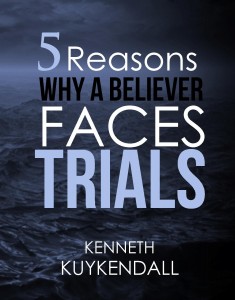 5 REASONS WHY A BELIEVER FACES TRIALS
Have you ever wondered why the Lord permits His children to go through calamities?  Why do good people sometimes face sorrow, pain, and death?  If God is sovereign, why do bad things happen to His children? In this booklet, Pastor Kuykendall gives five reasons why a believer may face the torrential storms of life.  If you have ever wondered why trials are a part of the Christian journey, you will certainly be encouraged as you read through these pages. Visit our publications site to learn more.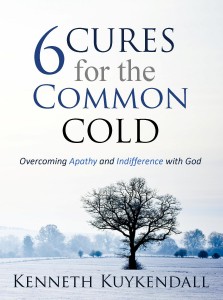 6 CURES FOR THE COMMON COLD
Apathy can lead a believer into the cold terrain of indifference.  If not carefully guarded, our hearts can become calloused from the rigid elements of despondency.  Keep your life kindled with the fire of God's presence and discover anew His flaming power in your soul. Pastor Kuykendall gives six sure-fire ways to prevent spiritual coldness from overtaking your life.  Click here for more information.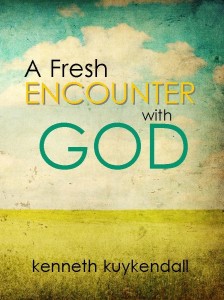 A FRESH ENCOUNTER WITH GOD
Has your relationship with the Lord become boring, mechanical, and robotic?  Do you simply go through the motions when it comes to your daily walk with God? If so, you need a fresh encounter with God.  Place yourself in the cleft of the rock with Moses as he discovers the presence of God in his life. Renew your passion for Christ through the pages of this book.  Click here for more information.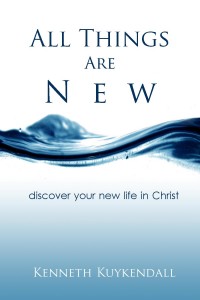 ALL THINGS ARE NEW
This book is designed to assist new converts in their walk with Christ.  Chapters include the basics of salvation, the importance of baptism and church membership, the need for fellowship and accountability, and the commission to every believer.  This book provides the tools to equip not only a new convert but a follower of Christ who stands in need of discipleship.  All Things Are New has been used by a variety of churches for New Converts and Discipleship classes.  Click here for more information.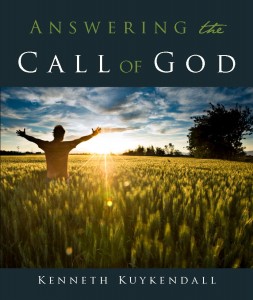 ANSWERING THE CALL OF GOD
The greatest life you can live is the life God has prepared for you.  In a world of constant noise it is becoming more difficult to detect the voice of God.  He is still speaking, the question is-are we listening?  Pastor Kuykendall studies the lives of several Old-Testament prophets who were faithful in answering the call of God.  Click here for more information.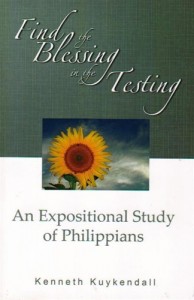 FIND THE BLESSING IN THE TESTING
In the darkest and most desperate circumstances of life, the Apostle Paul gave us the delightful epistle to the Philippians.  In his most personal, practical, and positive letter, we discover the secret to Paul's contentment.  This expositional study by Pastor Kuykendall offers in-depth exegesis, word study, and practical application.  Click here for more information.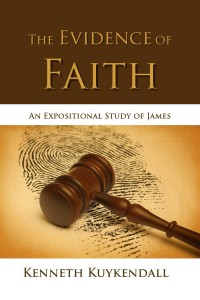 THE EVIDENCE OF FAITH
Much like a crime-scene investigator, the book of James methodically examines and practically evaluates the fruit of the believer.  This expositional study goes verse by verse throughout the book of James and highlights the work of grace produced in the child of God.  Click here for more information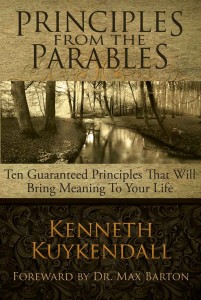 PRINCIPLES FROM THE PARABLES
In Principles from the Parables, Pastor Kuykendall examines ten familiar parables given to us by Christ and highlights a particular principle from each in which should govern our life.  These ten principles are sure to challenge your thinking and change your heart.  Click here for more information.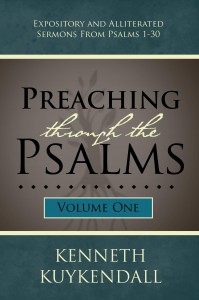 PREACHING THROUGH THE PSALMS, VOL. 1
This is the first installment of Pastor Kuykendall's popular outline series set on the Psalms.  These lessons were developed to plant spiritual seeds in the heart of the Bible-teacher and preacher.  Each lesson is constructed in a way that the reader can understand the context, the main body of thought, and the practical application of the passage.  Click here for more information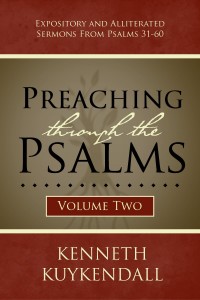 PREACHING THROUGH THE PSALMS, VOL. 2
This is the second installment of Pastor Kuykendall's popular outline series set on the Psalms.  These lessons were developed to plant spiritual seeds in the heart of the Bible-teacher and preacher.  Each lesson is constructed in a way that the reader can understand the context, the main body of thought, and the practical application of the passage.  Click here for more information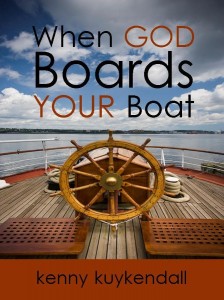 WHEN GOD BOARDS YOUR BOAT
Tired, exhausted, and frustrated from a long-night of fishing, the disciples allowed Christ to take control of their vessel, thus leading them to places they had never been.  When we give the Lord full control of our lives He is certain to lead us into the deep waters of His blessing and grace.    The journey is more joyful when God boards your boat.  Click here for more information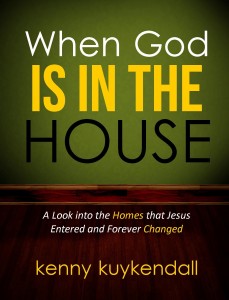 WHEN GOD IS IN THE HOUSE
More than anything else we need the presence of God in our midst.  Homes across America are struggling to find peace, provision, and purpose.  This book documents the various homes that Christ entered during His public ministry and the change He promises to bring when we give Him His proper place.  Click here for more information